Emergency logistics for Sudanese refugees in Chad
AGL TChad, in partnership with the United Nations Refugee Agency (UNHCR), Unicef and the NGO INTERSOS, has just accompanied a humanitarian mission for Sudanese refugees, transporting and delivering 79 tonnes of relief supplies. A charter flight from Liège (Belgium) to TChad last September carried 195 pallets containing tents, tarpaulins and medicines, to support the 53,000 Sudanese refugees who fled the war to settle in TChad.
The various items of equipment will be dispatched to the various refugee reception sites, mainly in the Ouaddaï region in eastern Chad. AGL Chad has mobilized its teams and equipment to ensure the success of this operation. Thanks to efficient coordination between AGL's teams and its partners from humanitarian organizations, the equipment was received and stored in a single day at AGL's facilities at N'Djamena airport.
This operation testifies to AGL Chad's ability to provide logistical solutions adapted to emergency situations, guaranteeing smooth and secure reception of relief materials.
With a logistics network spanning 47 countries on the continent, AGL has the expertise and experience to provide fast, efficient solutions in humanitarian emergencies.
In particular, AGL Chad offers customs clearance, aircraft chartering, handling and product distribution services in crisis zones.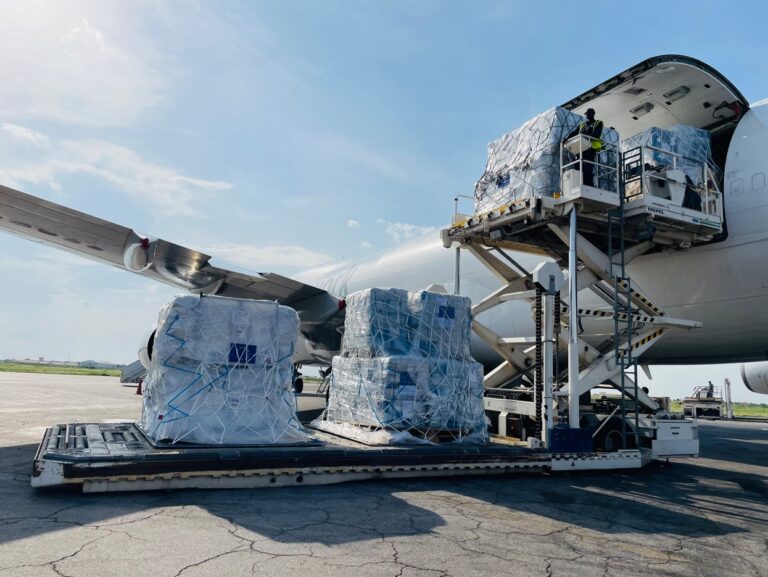 «

We are delighted to continue working with our customers UNICEF, UNHCR and INTERSOS to provide assistance to Sudanese refugees in Tchad. These various operations testify to our commitment to putting our expertise at the service of populations in difficulty, and to remaining a first-rate player in humanitarian aid missions .

»

confided Saleh Abba, Director of Logistics Solutions at AGL Tchad.
AGL Chad remains committed to supporting communities in crisis by implementing solutions tailored to their needs, in strict compliance with international standards.
About AGL (Africa Global Logistics) Tchad
Present in Tchad in the transport and logistics sectors, Africa Global Logistics currently employs over 200 people.
The company plays an active role in the development of Chad and is committed to improving the skills of its employees.
The company also works with young people to raise their awareness of the need to preserve the environment.
www.africagloballogistics.com
Press contact:
BANAYE Hadje Marada – Communications Manager
T +235 62 84 20 20 – hadje.marada-banaye@aglgroup.com