Timor Port awarded "Green Terminal" label
On September 13, 2023, Timor Port, a subsidiary of AGL (Africa Global Logistics), received the "Green Terminal" label for its commitment to the environment. This is the company's eleventh port concession to receive this label.
This distinction testifies to the company's efforts to implement environmentally-friendly practices and promote sustainable development within the maritime industry.
The audit conducted by Bureau Veritas confirmed that Timor Port's standards and practices comply with the "Green Terminal" requirements, based on eight pillars. These include assessment of operational processes, construction of infrastructure to international standards, waste management, employee training and proactive management of environmental issues.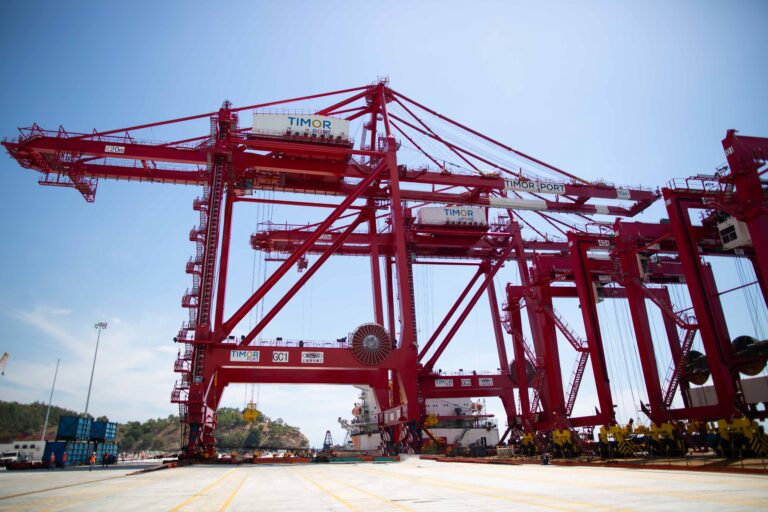 «

Obtaining the Green Terminal label is a mark of recognition for the entire Timor Port team and for AGL, who are committed to reducing the environmental impact of our facilities. It reflects our determination to promote eco-responsible actions,

»

explains Laurent PALAYER, CEO of Timor Ports
Timor Port is committed to continuing its efforts to continually improve its operations, notably by enhancing energy efficiency, air quality management, waste management, water conservation and local community involvement. In partnership with Tibar Liquica, the company is working within the framework of the Biodiversity Action Plan (BAP), on a reforestation and mangrove preservation project, to support its commitments to environmental preservation. This ambitious project aims to rehabilitate 16.5 hectares of mangrove ecosystems, as well as planting a further 3.5 hectares. Between January and August 2023, 4,000 mangrove seedlings were planted, for a total of 22,282 seeds cultivated between April 2022 and August 2023.
AGL thus maintains its commitment to minimizing the environmental impact of its activities and promoting a more virtuous future through an eco-responsible policy.
At the same time, Timor Port is committed to raising awareness of environmental issues in the local communities, by setting up educational programs and social initiatives to encourage environmentally-friendly behavior on the part of both community members and port employees.
About Timor Port
The Port of Timor, the country's first public-private partnership, will cost a total of 490 million dollars over a period of 30 years. The new port is located in the Bay of Tibar, 12 km from the capital Dili. It is equipped with some of the most modern handling equipment and operating software to enable the operation of container ships of more than 7,500 TEUs, achieving a level of productivity and performance worthy of the world's largest ports. The Port of Timor's ambition is to facilitate the country's trade with the rest of the world, in particular with China, northern Australia and Asian countries, and to make Tibar a transhipment centre and a major maritime gateway to the Asia-Pacific region. In order to develop employment opportunities for all Timorese, Timor Port has put in place strategic plans and recruitment phases that will enable the growth of the project to increasingly benefit local employment.
www.timorport.com – www.aglgroup.com
Press contact :
Patricia EKEY-MISSE, Communication Officer – Timor Port
patricia.ekey-misse@aglgroup.com  – +670 775 65 12