Development / Economic / Politics
Ghana
Official launch of phase 2 of the MPS terminal 3 expansion project in Ghana
On 15 November 2023, the President of the Republic of Ghana, H.E. Nana Akufo Addo, together with Philippe Labonne, AGL Chairman, officially launched phase 2 of the Tema port expansion project including the commissioning of 3 STS gantries and 12 e-RTG gantries.
The phase 2 works, led by Meridian Port Services (MPS), whose reference shareholders are AGL, APM Terminals and the Ghana Ports Authority (GPHA), are valued at a total of USD 150 million and involve the construction of 270,000 square metres of storage area plus the installation of new equipment. They will increase the terminal's capacity from 100 to 127 hectares.
The Tema port expansion project, which is being executed by the Eiffage Genie Civil Marine consortium and Se Simone Ltd, means the quay length can be increased to 1.4 km with four massive berths, equipped with sophisticated container handling gantries and terminal operating systems. This will enable it to accommodate large- capacity vessels. Phase 2, scheduled for completion in September 2025, will increase handling capacity from 2.5 to 3.7 million twenty-foot equivalent containers (TEUs).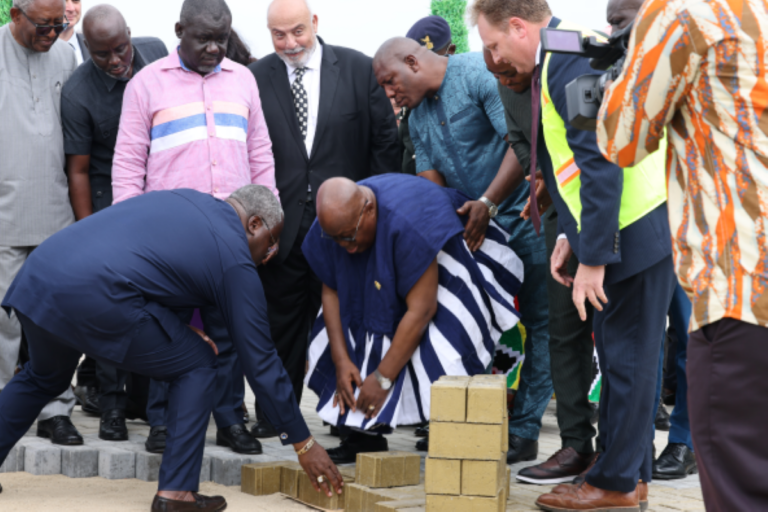 The STS and e-RTG gantries commissioned on this occasion by the President of the Republic of Ghana will thus boost capacity for handling import and export goods. This equipment will also gear-up the efficiency of the ships' loading and unloading operations, thereby strengthening the overall performance of the terminal. "These new port cranes are proof of our commitment to Ghana's economic growth. This state-of-the-art equipment will reinforce the position of the Port of Tema as a leading maritime hub in sub-Saharan Africa," stated Mohamed Samara, Managing Director of MPS.
«

MPS therefore provides Ghana with a modern infrastructure capable of supporting our country's development strategy. This has already improved the country's connectivity and opened up new industrialisation prospects. The Port of Tema is thus helping to boost trade in the region. This port has now become a key driver of employment for young Ghanaians and a catalyst for growth in our economy

»

explained Hon. Kwaku Ofori Asiamah, Ghana's Minister of Transport
MPS aims to help Ghana realise its ambitions as a pioneer of the African Continental Free Trade Area (AfCFTA), for which it hosts the Executive Secretariat. MPS has now been awarded the "Green Terminal" label by Bureau Veritas and provides a modern port infrastructure equipped with cutting-edge technology, enabling Ghana to connect with Africa and the rest of the world.
About Meridian Port Services Ltd (MPS):
Meridian Port Services Limited (MPS) is a joint venture composed of AGL (Africa Global Logistics), APM Terminals and the State of Ghana via the Ghana Ports and Harbours Authority (GPHA). Boasting 1,200 Ghanaian employees and the creation of thousands of indirect employment opportunities, MPS is expanding its container handling and storage activities to benefit the Ghanaian economy. The company implements solidarity initiatives for the local population in partnership with NGOs, such as supporting the empowerment of young people and raising awareness of environmental protection.
About Africa Global Logistics
AGL (Africa Global Logistics) is the leading multimodal logistics operator (port, logistics, maritime and rail) in Africa. The company is now part of the MSC Group, a world leader in maritime transport and logistics. With expertise developed over more than a century and more than 23,000 employees in 49 countries, AGL provides its African and global customers with bespoke and innovative comprehensive logistics solutions, with the aim of making a lasting contribution to Africa's transformation. AGL is also present in Haiti and Timor.
Press contacts:
Rachel HOUNSINOU, Media Relations Manager – rachel.hounsinou@aglgroup.com – M.+33 (0)6 43 27 16 91
Leonora AMAKUOR AKPEY, Public Relations Officer – lakpey@mps-gh.com–M.+(233) 244 385 786