Kribi Container Terminal acquires four new port tractors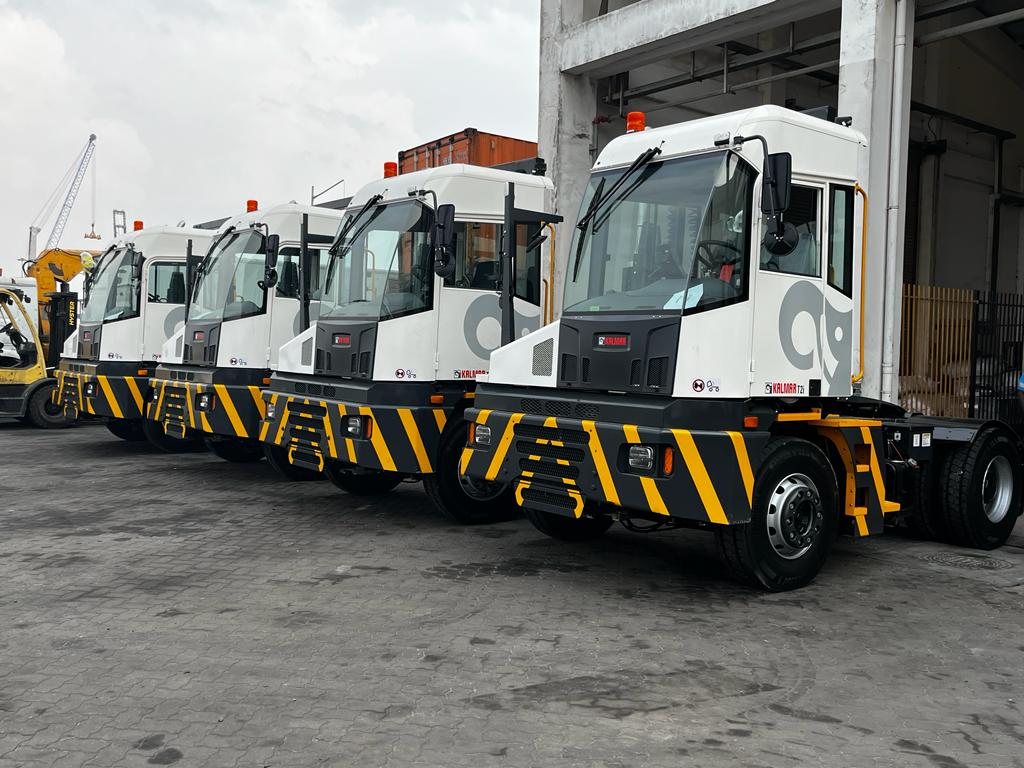 Kribi Container Terminal acquires four new port tractors to productivity at the port of Kribi
Kribi, March 23, 2023
Kribi Containers Terminal, operator of the container terminal of the Port of Kribi, put into service on March 3rd, four brand new port tractors manufactured in Gdynia, Poland by Kalmar, specialized in port equipment. Received in mid-February, these machines are operational after a phase of compliance provided by the Technical Directorate of Kribi Container Terminal.
Equipped with a powerful engine, they have the particularity to move heavy loads up to 50 tons. Each of these tractors is equipped with a spacious, soundproof and air-conditioned driver's cabin. All this guarantees the driver optimal comfort and safety.
These new acquisitions are in addition to the 14 port tractors in the fleet and will contribute to strengthening the productivity of the Port of Kribi Container Terminal which celebrated on March 2, 2023 the 5th anniversary of the start of its activities. These new investments come after the purchase of 5 gantry cranes on May 10, 2021 and a Gottwald mobile crane on April 11, 2021. With this equipment KCT expects to do better than in 2022, a year in which the concessionaire had recorded an increase in volumes handled of 87% in export, 10% in import for an overall growth in volumes of 32%.
«

The introduction of these new tractors demonstrates our commitment to the ongoing pursuit of operational excellence in serving our customers. Thanks to this new equipment, we will increase productivity and significantly reduce waiting times. The objective is to be able to serve our customers, whether they are shippers or receivers, but also shipowners, as quickly as possible.

»

David Azra , Managing Director of KCT
Kribi Containers Terminal, of which Bolloré Africa Logistics is one of the reference shareholders, is mobilized alongside the Autonomous Port of Kribi and the customs administration to develop the attractiveness of the port for Cameroon, but also the sub-region. In this regard, a memorandum of understanding for the development of an integrated industrial zone in the seaside city of Kribi was signed on February 15, 2023 with the Autonomous Port of Kribi (PAK), private partners and the Directorate General of Ports and Terminals of Bolloré Africa Logistics.
Eric KONGOU, Media Relations Manager – Africa Global Logistics T +237 698 00 75 23 -eric.kongou@bollore.com
About Kribi Containers Terminal
Consisting of a group of Cameroonian shareholders, AGL, CMA CGM and CHEC, the Kribi Container Terminal consortium is the concessionaire for the container terminal of the deepwater port of Kribi. KCT offers the Cameroonian logistics chain a modern infrastructure, adapted to the new generation of transoceanic vessels, including 350-meter quays that can accommodate vessels with a capacity of up to 11,000 TEU. The infrastructure and equipment meet the highest international standards. A real gateway to Cameroon and its hinterland countries, such as Chad and the Central African Republic, this new terminal will facilitate the development of regional trade and accelerate the country's economic growth. Kribi Container Terminal also aims to position itself as a transshipment hub.