A parliamentarians delegation visits CAMRAIL
From 16 to 19 August 2023, CAMRAIL, a subsidiary of Africa Global Logistics (AGL), welcomed a large delegation of Cameroonian parliamentarians on an exchange and information visit.
The delegation from the Production and Exchanges Committee of Cameroon's National Assembly first held a working session with Pascal Miny, Managing Director of CAMRAIL, before making a field visit to the company. The visit began in the central workshops at Bassa, the heart of the rail business, and continued with a trip on board and an inspection of the railway works between Douala and Edéa, then between Yaoundé and Mbandjock.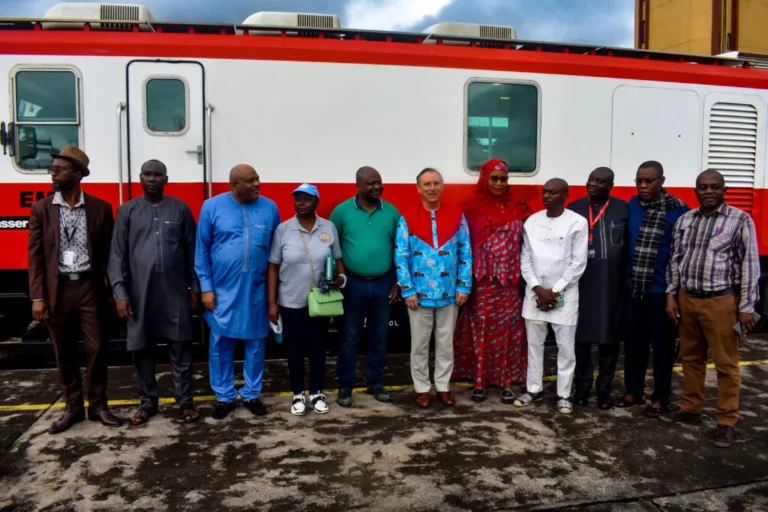 «

The Committee wanted to know more about CAMRAIL's strengths and challenges, so as to ensure a continuing fruitful partnership with the State of Cameroon in the context of the new law governing the rail sector.

»

Honourable Guillaume Mbakam Chouga, Chairman of the Committee on Production and Trade at the National Assembly of Cameroon
With more than 700 billion FCFA injected into infrastructure modernisation since the concession agreement was signed in 1999, CAMRAIL has made the modernisation of Cameroon's rail network a priority. To this end, more than 550 km of track have been renovated, including 175 km that have been completely renewed. Thanks to its shareholding, CAMRAIL has been able to set up modern facilities for motive and hauled equipment at the central workshops in Bassa-Douala, incorporating cutting-edge technologies.
Despite the ups and downs, the importance of the passenger business has been maintained, with 8 trains a day carrying an average of 800,000 passengers a year. Other highlights include the refurbishment of passenger rolling stock, the renovation of stations, the digitisation of passenger services and the improvement of passenger reception and transport conditions.
«

The visit of the Production and Trade Committee to the National Assembly demonstrates, on the one hand, the interest that this institution takes in CAMRAIL and, on the other hand, the key role that the rail sector plays in the socio-economic development of Cameroon.

»

Pascal Miny, Managing Director of CAMRAIL
Thanks to its dynamic human resources policy, which attracts a great deal of talent every year, and its rail proximity policy, through which CFAF 400 million is invested annually in communities along the railway, CAMRAIL is an exemplary partner of the State of Cameroon.
About CAMRAIL
A subsidiary of Africa Global Logistics (AGL), CAMRAIL has held the concession for Cameroon's railways since 1999. A major player in Cameroon's economic and social development, CAMRAIL invests an average of FCFA 12 billion per year. The company pays an average of FCFA 10 billion each year to the State of Cameroon in royalties, taxes and fees. With 1,500 direct employees and 4,000 subcontractors, CAMRAIL is developing a proactive policy for its human resources and its ecosystem. www.camrail.net
Contact Presse
Hugues Mbala Manga – Head of Communications Department
hugues.mbala-manga@camrail.net – Tel: 696 91 01 28