Côte d'Ivoire Terminal recognized as top job provider in Ivory Coast by government
Côte d'Ivoire Terminal (CIT), the operator of the 2nd container terminal at the Port of Abidjan, received a prestigious award on September 5, 2023. The award "The Prix National d' Excellence" presented by His Excellency Mr Alassane Ouattara, President of the Republic of Côte d'Ivoire, was in recognition of CIT's outstanding contribution to job creation and skills development in Ivory Coast. The event, graced by the presence of Prime Minister Patrick ACHI, took place as part of the "Côte d'Ivoire Solidarity Project."
This distinction, awarded by the government of Côte d'Ivoire as part of its "Côte d'Ivoire Solidarity project", underlines the ongoing commitment of CIT and its reference shareholders, Africa Global Logistics (AGL) and AP Moller, to the creation of decent jobs, skills development, and the empowerment of Côte d'Ivoire's youth.
Since 2020, the company has recruited more than 400 direct employees and has enabled around 100 subcontractors and more than 2,000 indirect employees to be mobilised. To this end, CIT has implemented a transparent and accessible recruitment process through the publication of vacancies, the selection of high-potential profiles and the merit-based recruitment of candidates.  A dedicated induction programme has been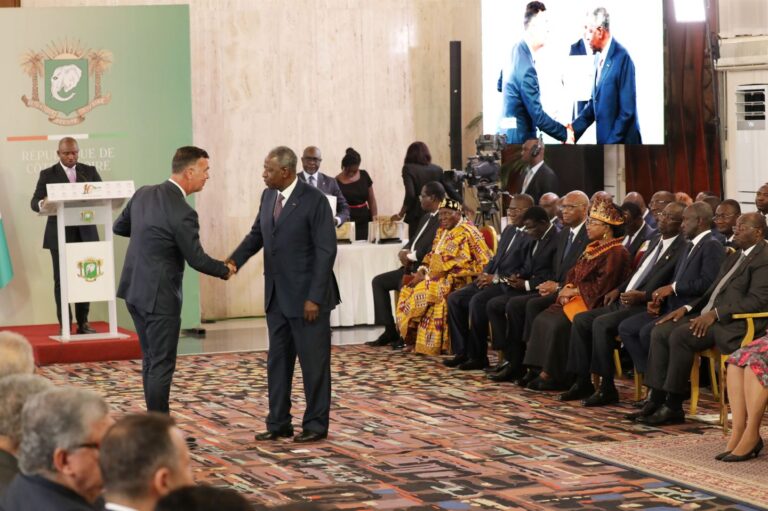 put in place, providing employees with a high-quality framework in which to express themselves professionally. Specific training programmes have been set up with the help of AGL's Centre de Formation Professionnelle aux Professions Portuaires (CFPP) in Abidjan. New recruits have also benefited from training courses at reference terminals in the shareholders' network (APM Terminals in Bahrain and MPS in Ghana). A framework for dialogue has been set up within the company, providing workers with decent working conditions.
«

We are delighted to win the national award for excellence, which underlines our commitment to job creation in Côte d'Ivoire. Our aim will be to go even further by consolidating the jobs we have created, through the ongoing training and career development of our teams

»

Bintou Konaré, CIT's Human Resources Director
As part of the construction work on this terminal, which is being supervised by the Port Autonome d'Abidjan, Côte d'Ivoire Terminal has mobilised some thirty local companies between 2020 and 2022 to provide Côte d'Ivoire with a modern port infrastructure. By promoting the development of the local supply chain, Côte d'Ivoire Terminal is contributing to the development of local skills, boosting the employability of young people and thus playing a key role in reducing unemployment by offering career opportunities to a large number of Ivorian workers.
«

This recognition from the Côte d'Ivoire government is a source of pride for all our teams. This award reinforces our investment choices, which aim to make a lasting contribution to the development of local skills in Côte d'Ivoire. Our ambition remains to make CIT a good corporate citizen, putting people at the heart of its priorities

»

said Koen De Backker, Managing Director of Côte d'Ivoire Terminal
Thanks to its ongoing investment in modernising its processes and equipment, Côte d'Ivoire Terminal creates the best working conditions for its employees, supports the growth of international trade and facilitates the export and import of goods. The company also plays an essential role in strengthening the competitiveness of the Port of Abidjan, the economic prosperity of Côte d'Ivoire and the development of sub-regional trade.
«

I am delighted that the second container terminal at the Port of Abidjan (CIT), a project championed by His Excellency Alassane Ouattara, and which was opened in December 2022, will be a lever of excellence in our country's logistics system. This terminal, which is now a major source of direct employment for young graduates, is also generating many indirect jobs in our country's logistics chain. It is the culmination of the efforts we have made alongside our partners AGL and APMT to offer our country and the sub-region an ultra-modern terminal with the Green Terminal label, operated by skilled young Ivorians. I congratulate CIT, which is flying the flag for the port of Abidjan

»

said Hien Sié, Managing Director of the Port Autonome d'Abidjan
About Côte d'Ivoire Terminal
After an international call for tenders, the AGL and APM Terminals consortium was awarded the construction and management of the 2nd container terminal of the Port of Abidjan. Through an investment of over FCFA 262 bn, this new container terminal is able to handle over 1.5 million TEU containers per year and accommodate vessels with up to 16 metre draughts, along its 1,100 metres of docks. Covering a surface area of 37.5 hectares, it is set to ultimately generate over 450 direct jobs, along with thousands of indirect jobs. It will contribute to the development of skills and training for Ivory Coast youth, in the port trades and next generation equipment handling field.
Press contact:
Armand Ahouré – Communications Manager – Côte d'Ivoire Terminal.
kissi-armand.ahoure@aglgroup.com – Tel : +225 07 08 08 08 36