Africa Global Logistics, official sponsor of the Ivorian Football Federation (IFF)
AGL (Africa Global Logistics), a major player in transport and logistics in Africa, and the Ivorian Football Federation (FIF) signed a partnership agreement on 2 October 2023.
In the presence of the Ivorian football family, Martine Coffi Studer, Chairman of the Board of Directors of AGL Ivory Coast, and Idriss Diallo, President of the FIF, signed a program of support for the development of Ivorian football over the next four years, with a particular commitment to youth football in Ivory Coast.
AGL, a major player in transport and logistics in Ivory Coast, is thus making its contribution to the youth program for a "united Ivory Coast" promoted by the President of the Republic, H.E. Alassane Ouattara. The aim of this partnership is to support the development of football, which unleashes passions in Ivory Coast, and to reaffirm AGL's commitment to young people by promoting a culture of humility, agility, solidarity and excellence, all cardinal values for participating in the transformation of Africa.
Within the framework of this contract, AGL, through its subsidiaries Abidjan Terminal, Sitarail, Ivory Coast Terminal, Carena and AGL Ivory Coast, becomes the official sponsor of all the national football teams "the Elephants" and the major partner of the Ivorian Football Federation in the organization of youth championships.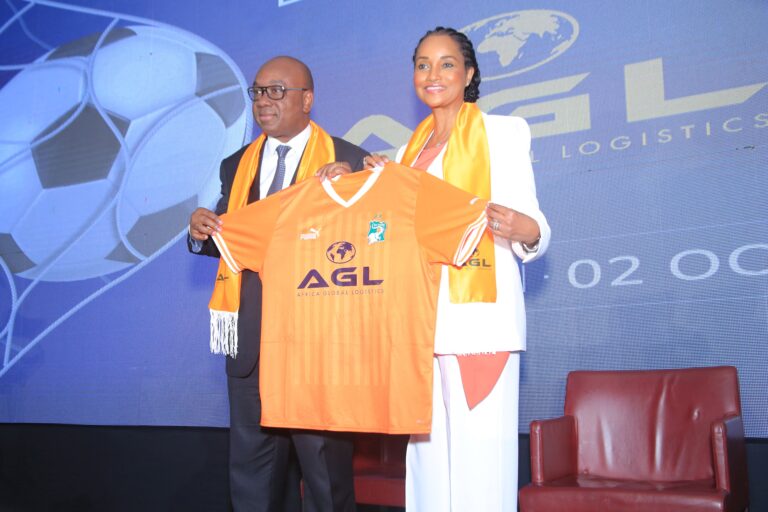 «

Our partnership with the Ivorian Football Federation demonstrates our commitment to young people in Africa. We are convinced that football is a powerful tool for promoting positive values and supporting the personal development of young people. As an Ivorian company and a key employer in the country, we are proud to help build a better future for Ivorian youth

»

said Martine Coffi-Studer, Chairman of the Board of Directors of AGL Ivory Coast
As a long-standing partner of the Ivory Coast national football teams since 2005, AGL is committed to supporting the Ivorian football development program presented by the Executive Committee, through financial support dedicated to youth team competitions (U-15, U-17 and U-20). This sponsorship contract with the Ivorian Football Federation is part of the support provided by national companies to Ivory Coast's infrastructure development efforts in the run-up to the African Cup of Nations (AFCON), which will take place from 13 January to 11 February 2024 in Ivory Coast.
«

We are honored to have AGL as one of our major partners. Their commitment to young people and their expertise in logistics will play a key role in the development of football in Ivory Coast. I have no doubt that our collaboration will help to promote sport and its values among the youth of Ivory Coast

»
The partnership between FIF and AGL is in line with AGL's ambition to be at the heart of Africa's transformation. It is part of AGL's sponsorship and patronage program dedicated to young people, in line with the sustainable development objectives to which the company has subscribed.
About AGL in Ivory Coast
AGL is the leading multimodal logistics operator in Africa, offering tailor-made and innovative global logistics solutions to its African and international customers. The company is now part of the MSC Group, the world's leading shipowner. Present in Ivory Coast in logistics, rail transport (Sitarail) and port handling through Abidjan Terminal and Ivory Coast Terminal, AGL now employs more than 8,000 Ivorian staff through its branches in Abidjan, San Pedro, Bouaké, Noé, Ferkessédougou and Ouangolodougou. The company plays an active role in the development of Ivory Coast and is committed to developing the skills of its employees and young people through its Pan-African Port Training Centre (CFPP). AGL is also involved in community projects in partnership with associations, for example to help young people go to school and get back into society, and to raise awareness of environmental protection issues.
Press contacts:
Rachel HOUNSINOU – Media Relations Manager – AGL
rachel.hounsinou@aglgroup.com – +33 01 88 87 10 14 – 06 43 27 16 91
Arsène YAPI – Regional Media and Content Manager AGL Ivory Coast – Burkina Faso 
arsene.yapi@aglgroup.com –  +225 27 21 22 04 01 / +225 07 07 19 49 67