AGL, the new operator of the Malindi Container Terminal in Zanzibar
Witness by the ministry of infrastructure communication and transport, Tony Stenning, Regional Director of Southern Africa at AGL (Africa Global Logistics), and Nahaat Mahfoud, CEO of Zanzibar Ports Corporation, signed the contract for the management of the Malindi Container Terminal at the Port of Malindi in Zanzibar on May 18, 2023.
AGL will be responsible for cargo handling operations and maritime services at the country's main port infrastructure. The company is committed to implementing an investment program for the modernization and development of the Port of Malindi. AGL also plans to construct a depot zone outside the port to alleviate congestion.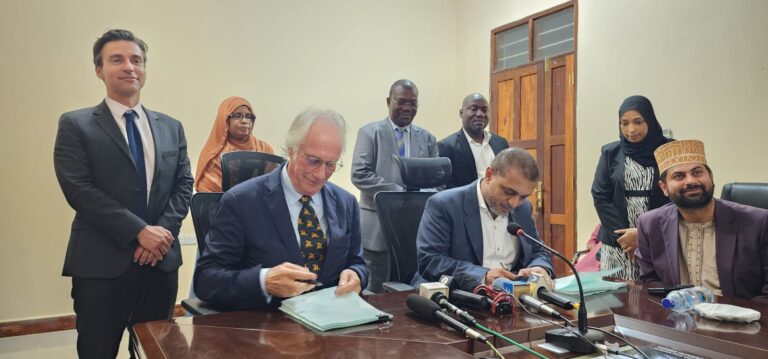 «

We are going beyond operational improvements at this port, as we are determined to invest in its development, attract a greater variety of maritime lines, and stimulate trade volumes,

»

Tony Stenning , Regional Director of Southern Africa at AGL (Africa Global Logistics),
This agreement will enable the country to have a modern infrastructure capable of ensuring imports and exports in conditions of quality, security, and safety that comply with international standards, thanks to AGL's experience in port terminal management.
«

The signing of this contract confirms our commitment to continue developing our portfolio of port concessions in Africa. It is a great opportunity for us and our partners in Zanzibar to develop the Port of Malindi and make it the gateway to Zanzibar

»

Olivier de Noray , CEO of Ports & Terminals of AGL.
AGL's new presence will preserve all existing direct jobs and create hundreds of indirect employment opportunities for the residents of Zanzibar. Training and the development of skills for local talent are among the commitments made by AGL.
About AGL (Africa Global Logistics)
AGL (Africa Global Logistics) is the reference multimodal logistics operator (port, logistics, sea and rail) in Africa. The company is now part of the MSC Group, a leading shipping and logistics group. Having developed its expertise over more than a century and with more than 21,000 employees working in 49 countries, AGL provides its African and global customers with global, customized, and innovative logistics solutions, with the goal of contributing in a sustainable way to the transformations of Africa.
AGL is also present in Haiti and Timor.
Press Contacts:
Rachel HOUNSINOU, Media Relations Manager– AGL
rachel.hounsinou@aglgroup.com – +33 01 88 87 10 14 – 06 43 27 16
Candy Botha, Regional Marketing Manager – AGL
Candy.botha@aglgroup.com – +27 83 756 8300