Development / Ports
Djibouti
AGL Djibouti completes port handling, transport and unloading of Wartsila engines at Boulaos substation
AGL Djibouti recently completed the successful handling, transport and unloading of two Wartsila engines, each weighing 95 tonnes, along with various accessories. The equipment was transported to the Boulaos substation, some 14 kilometers from the port of Djibouti.
This achievement highlights AGL's commitment to providing solutions that meet the highest international standards for its customers and the communities it serves, with a particular emphasis on safety.
The success of this project relies in particular on meticulous route planning, carried out in advance of the ship's arrival at the port of Djibouti, and on strict compliance with environmental standards. Throughout the operation, the company maintained constant communication with the relevant authorities to ensure compliance with established procedures.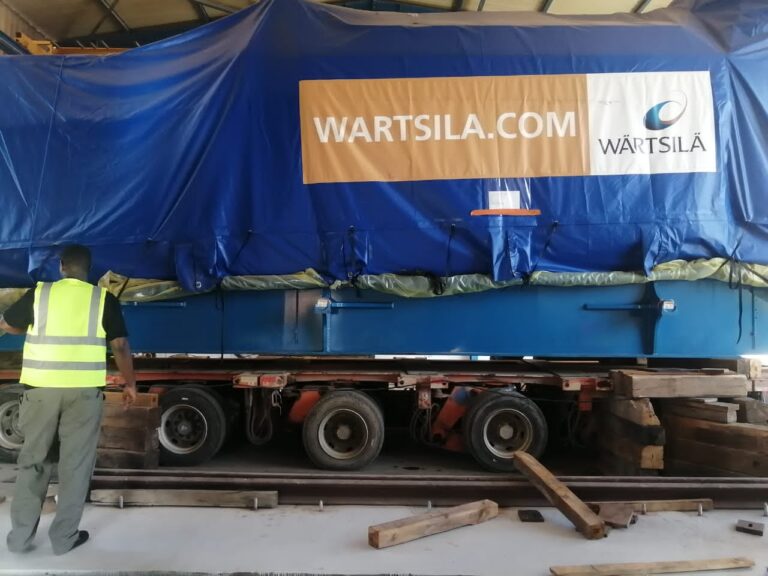 «

We always give priority to safety in all our activities. It is also essential for our teams to preserve the environment in which our customers operate

»

emphasized Omar Abdulkarim, Head of the Horn of Africa cluster at AGL
This achievement testifies to AGL Djibouti's expertise in managing complex logistics operations, and its commitment to achieving the highest levels of safety and environmental responsibility. It also underlines the company's ongoing commitment to providing reliable and responsible solutions to all its customers.
About Africa Global Logistics
AGL (Africa Global Logistics) is the leading multimodal logistics operator (port, logistics, sea, and rail) in Africa. The company is now part of the MSC Group, a leading maritime transport and logistics company. With expertise developed over more than a century and over 23,000 employees in 49 countries, AGL provides its African and global customers with comprehensive, customized, and innovative logistics solutions, with the ambition to contribute sustainably to the transformation of Africa. AGL is also present in Haiti and Timor.
Press Contact:
Rachel HOUNSINOU, Media Relations Manager
rachel.hounsinou@aglgroup.com – M.+33 (0)6 43 27 16 91
Barbara NYENDE, Corporate Communications Manager
barbara.nyende@aglgroup.com – M.+ 254 712 351562