First class of AGL "transit school" program
AGL Ivory Coast has recruited the best trainees from its first class of the "Transit School" program, after 6 months of training within its structures. The closing ceremony for this first wave of trainees took place on Friday July 28, 2023 in Abidjan.
In partnership with the Ministry for Youth Promotion, Professional Integration and Civic Service, the program welcomed 20 young graduates with a BAC+2/3 in logistics or international trade. These students, aged 30 and over, have been trained in the management of customs disputes and suspensive regimes, the use of IT tools, invoicing, and English for forwarding agents.
During their training, these students were supervised by 15 AGL Côte d'Ivoire managers and supported by 3 experts from Youth Employment Agency. They acquired practical skills to become excellent transit agents, serving the development of AGL Côte d'Ivoire and the logistics sector in Ivory Coast.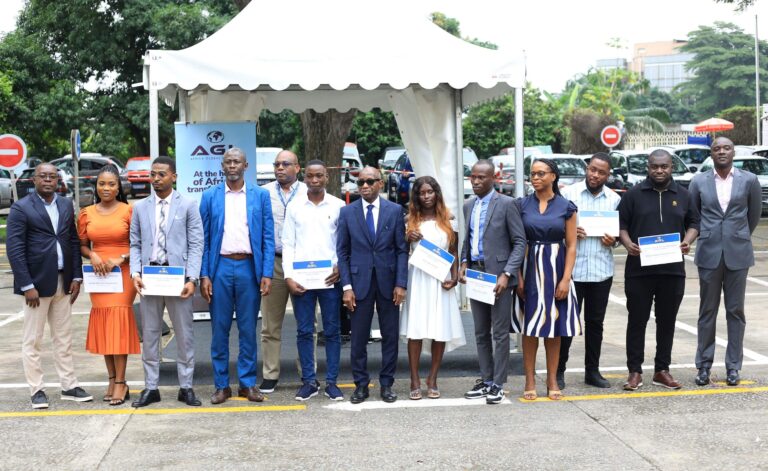 «

We are delighted to have taken part in this program, whose training has exceeded our expectations. We are now equipped to deal with transit issues, and are ready to serve wherever our skills are needed. 

»

Inza Nabil Timité, spokesperson for the trainees.
«

We are pleased and proud to launch the first class of our "Transit School" program, which helps young graduates find employment. As training is an excellent lever to help young people find employment, we are making our contribution to the promotion of young talent in Côte d'Ivoire

»

Joël HOUNSINOU, Managing Director of AGL Ivory Coast.
AGL Ivory Coast, the leading employer in the logistics sector in Ivory Coast, offers young Ivorians the opportunity to gain practical experience in its workshops and logistics platforms, with the aim of inspiring vocations and enhancing their employability. The company remains committed to training young people through its training center (CFPP), partnerships with training schools and by awarding scholarships and internships to young people within its departments.
About AGL
Present in Ivory Coast in transport, logistics and port handling, AGL Ivory Coast today employs over 1,500 Ivorian staff, notably through its agencies in Abidjan, San Pedro, Bouaké, Ferkessédougou and Ouangolodougou. As a subsidiary of the AGL Group, the company plays an active role in Ivory Coast's development and is committed to enhancing the skills of its employees. It trains them through the Centre de Formation Portuaire Panafricain (CFPP) and develops partnerships with higher education establishments, such as the Felix Houphouët-Boigny National Polytechnic Institute (INP-HB). AGL Ivory Coast also works with associations to help local communities with schooling, social reintegration of young people and environmental protection.
Press contact:
Arsène YAPI, Media and Content Manager – AGL Ivory Coast
T +225 27 21 22 04 01 / +225 07 07 19 49 67 – arsene.yapi@aglgroup.com