SOGECO celebrates Year 1 of the Grand Tortue-Ahmeyim (GTA) logistics success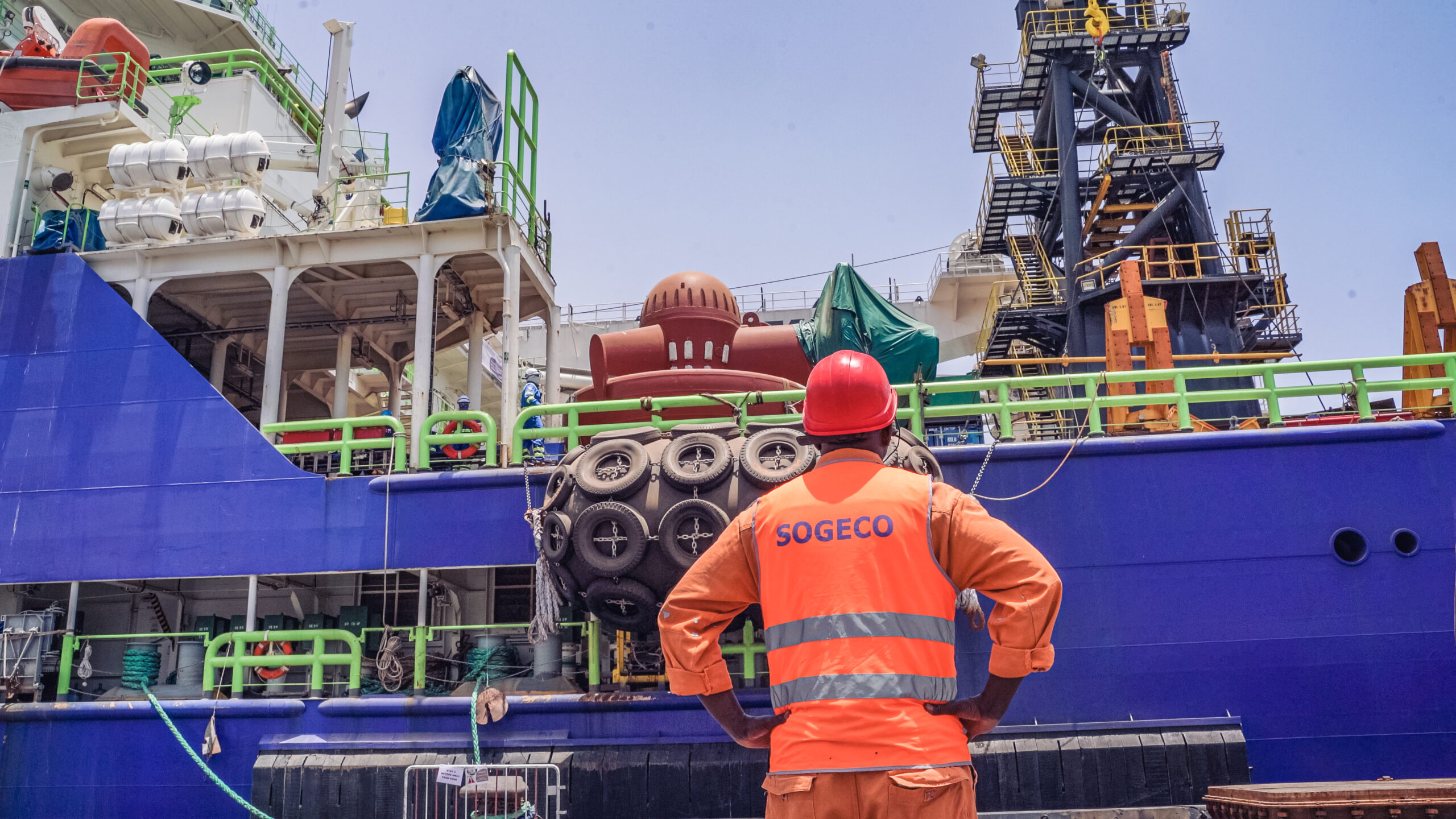 SOGECO celebrates Year 1 of the Grand Tortue-Ahmeyim (GTA) logistics success
Nouakchott, February 28 th ,2023
SOGECO, the leading logistics operator in Mauritania, has just celebrated the first year of operational execution of the Grand Tortue-Ahmeyin (GTA). This gas project located on the border between Mauritania and Senegal, which mobilises the British company British Petroleum and the engineering company McDermott, celebrated 450,000 hours of work without incident on 4 February.
SOGECO was selected to set up the logistical base for the storage and transport of the subsea pipes (SURF) linking the wells to the FPSO, as well as the subsea system (SPS) of the gas field since 2021. Through the ports of Nouakchott and Ndiago, SOGECO has handled more than 270 calls for 150,000 tonnes of freight transported and more than 100,000 lifting operations.
To achieve these performances, more than 400 people were trained by the company, notably for the provision of handling, transport, lifting, storage, preservation, stock management and inspection services… Equipment in compliance with the client's QHSE standards and the industry's quality, health and safety and security norms, enabled SOGECO to achieve this first year without any work-related accidents.
«

We are very proud of this first year of work. We have not only been able to provide solutions adapted to the needs of our clients, but also to create jobs for Mauritanians, while guaranteeing their safety. I would like to thank all the partners who have placed their trust in us, and I would like to sincerely congratulate my teams at SOGECO and my partner Africa Global Logistics. I look forward to seeing you at the end of the year for the delivery of the site, to celebrate another 2 years of the project, without any accidents

»

Sid Ahmed Abeidna , President of SOGECO.
Thanks to the support of the Mauritanian government, the Ministry of Oil, Energy and Mines and other stakeholders, SOGECO and its partner Africa Global Logistics have been able to demonstrate Mauritania's ability to implement high value-added logistics solutions to ensure the success of West Africa's major offshore liquefied natural gas project.
Press Contacts:

Rachel Hounsinou, Medias Relations Manager– Africa Global Logistics
Rachel.hounsinou@bollore.com – +33 01 88 87 10 14
Ethmane Abdelkader, Sales Manager– SOGECO
ethmane.abdelkader@sogeco-sa.m
A propos de SOGECO
Implanté en Mauritanie depuis 1972, SOGECO dont Africa Global Logistics est actionnaire, propose à ses clients locaux et internationaux des solutions logistiques de bout en bout incluant notamment le transit, Freight Forwarding, Shipping Agency, Airfreight, Meet & Greet, le dédouanement, l'entreposage et le transport de marchandises (OOG & Dangerous goods). La société possède également une solide expertise dans différents secteurs tels que l'énergie (pétrole & gaz), l'exploitation minière, les matières premières agricoles, les produits alimentaires et l'aide humanitaire. Elle emploie aujourd'hui près de 350 personnes réparties au sein de ses différentes structures opérationnelles et réseau d'agences situées à Nouakchott et Nouadhibou.

;