New lighting system to reduce energy consumption at Owendo container terminal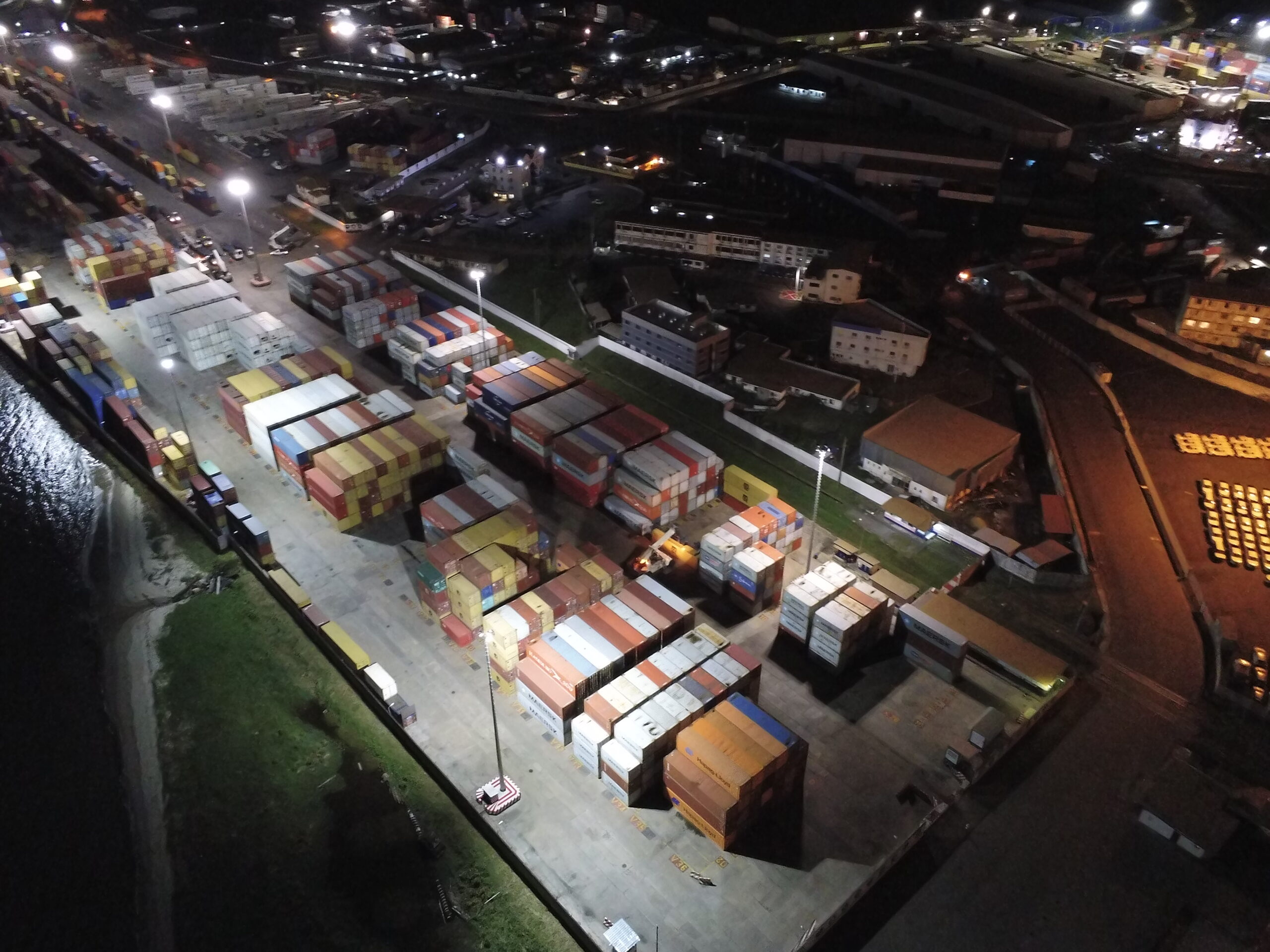 New lighting system to reduce energy consumption at Owendo container terminal
Libreville, February 28, 2023
Owendo Container Terminal (OCT) launched last January the new lighting system of the container terminal of the Port of Owendo, the main gateway for the flow of goods in Gabon. This new system aims to improve the performance of the terminal's lighting and reduce its electricity consumption in line with the commitments of the Green Terminal Label.
The work carried out by Sogafric, a specialist in electrical works in Gabon, has enabled the terminal's electrical system to be strengthened by the installation of three new lighting towers equipped with LED spotlights. These new installations will save up to 80% of electrical energy consumption, while providing a better and safer environment.
Open 24 hours a day, this investment will provide operators and terminal users with significantly improved lighting quality in the work areas. "Beyond the cost savings, this investment of 217,000,000 FCFA (330,000 euros) in our terminal will help us to reduce our energy consumption and, above all, to offer a better working environment to our teams. This is a significant step forward in our sustainable development objectives" said Laurent GOUTARD, General Manager of Owendo Container Terminal.
This action by Owendo Container Terminal is part of the sustainability dynamic promoted by the Gabonese authorities in the framework of the Emerging Gabon Strategic Plan.
Already awarded the Green Terminal label since May 4, 2022 for its efforts to reduce its environmental footprint, Owendo Container Terminal is implementing other eco-responsibility actions in addition to this new lighting system. Among them, the installation of a washing station equipped with a wastewater separator, respect for the maintenance of machines and vehicles and soon a footbridge that will link the two quays with the objective of making the flows of the port platform more fluid and secure as well as reducing their carbon footprint by reducing the travel time of trucks.
Press contact:
Aimée Pascaline MOUGOULA
Communication & CSR Manager Africa Global Logistics Gabon
aimeepascaline.mougoula@oct-gabon.com – T +241 62 30 40 86 / +241 11 70 95 00 / +241 11 79 41 00
About Owendo Container Terminal
Owendo Container Terminal (OCT) is the operator of the container terminal at the port of Owendo in Gabon. A major player in the country's logistics chain, OCT employs nearly 300 Gabonese and is developing a subcontracting policy that generates nearly a thousand indirect jobs. Each year, OCT also carries out actions to support local populations in partnership with NGOs in many fields, particularly education and the environment.