AGL Egypt successfully transports a large cargo to a customer's site
AGL Egypt, one of the leading logistics operators in Egypt, is proud to announce the successful delivery of a massive cargo to one of its Egyptian clients' sites. The operation involved the transportation of a heavy cargo, measuring 39 meters long and weighing 170 tons, to the client's site specializing in the oil and gas industry.
Under the leadership of Osama Sedawy, General Manager of AGL Egypt, the teams demonstrated their expertise by successfully delivering this high-value cargo that required delicate handling, while adhering to the strictest safety standards. This achievement highlights AGL's proficiency in complex industrial project logistics and its ability to transport large volumes across territories.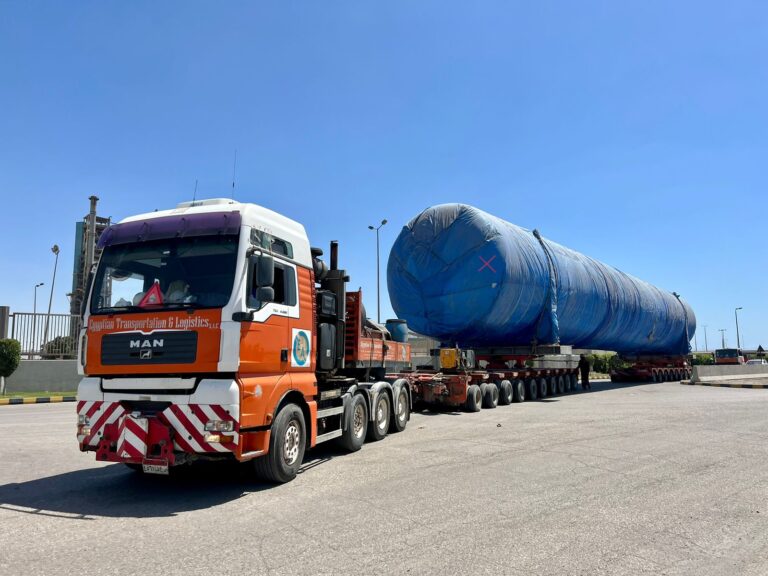 This successful operation further strengthens the company's position as an industry leader and a trusted partner for clients worldwide. Through this performance, AGL aims to emphasize its unwavering commitment to excellence and its dedication to providing high-quality logistics services, earning a reputation for reliability, efficiency, and professionalism.
In 2022, AGL Egypt delivered over 13,000 tons of equipment, exceeding weights of 140 tons and lengths of 35 meters, from the port of ADABYIA to client sites. These significant shipments presented considerable challenges due to poor road conditions in the region, with nearly 40% of the roadways being unpaved. Despite these obstacles, the AGL Egypt team worked tirelessly to overcome these difficulties, ensuring the safe and timely delivery of the cargoes to their intended destinations.
«

We are extremely proud of the achievement of our team in Egypt, who successfully delivered this massive cargo to our client's site in Egypt. We firmly believe that our commitment to customer satisfaction, sustainable and inclusive growth, digitization, and the development of local talent is the key to our success

»

Jason Reynard , Regional Director of AGL
AGL remains firmly committed to providing innovative, efficient, and sustainable logistics solutions, aiming to make a positive impact on the African logistics landscape. The company continues to invest in cutting-edge technologies and infrastructure to enhance the services offered to its esteemed clientele.
About AGL (Africa Global Logistics)
AGL (Africa Global Logistics) is the reference multimodal logistics operator (port, logistics, sea and rail)in Africa. The company
is now part of the MSC Group, a leading shipping and logistics group. Having developed its expertise over more than a century
and with more than 21,000 employees working in 49 countries, AGL provides its African and global customers with global,
customized, and innovative logistics solutions, with the goal of contributing in a sustainable way to the transformations of Africa.

AGL is also present in Haiti and Timor.

Press Contacts:

Rachel HOUNSINOU, Media Relations Manager– AGL
rachel.hounsinou@aglgroup.com – +33 01 88 87 10 14 – 06 43 27 16

Barbara NYENDE, Corporate Communications Manager – AGL
barbara,nyende@aglgroup.com – +254 712 351562

;